Baby Nasal Aspirator
$39.97
$79.94
SAVE $39.97
Relieve Your Baby's Stuffy Nose With This Gentle Re-Chargeable Nasal Aspirator!
A smart, safe, and effective solution for helping your congested baby sleep comfortably through the night. Nasal mucus can be removed from the nose to provide much needed relief for your baby.
Baby Nasal Aspirator can let baby breathe easily. The Baby Nasal Aspirator has a streamlined design for easy use. Our aspirator does not require batteries as it can be charged using a USB cable.
Baby Nasal Aspirator comes with two differently sized exchangeable nozzles, made of soft BPA free silicone, so it will always fit in your baby's nose comfortably and will not harm your baby's nasal cavity when using.
FEATURES
EASY TO CLEAN: Simply open the detachable tips and the collection cup with hot soapy water. You'll never worry again about exposing your baby to bacteria or mold. The perfect gift for New mother.
SAFE AND RELIABLE: 5 levels of suction power and 2 sizes of soft reusable silicone tips in electric nose cleaner, provide perfect suction for every size nose while not harming your baby's delicate sinuses.
GENTLE BUT POWERFUL: Nasal Aspirator will remove your baby's mucus without making much noise, so your baby can breathe easier and sleep soundly.
STREAMLINE DESIGN: ergonomically designed and controlled by the simple push of a button allowing for one-handed use.
How to Use: 
1. Choose an appropriate nose tip.
2. Before using in baby's nose, it's better to use it on your arm to get familiar with the mode settings and to feel the strength of suction.
3. Keep the main body away from water.
4. Insert into your baby's nose and begin suction to remove mucus.
5. Remove the aspirator to check your baby's nose and mucus levels, repeat suction if necessary.
4. Clean and disinfect it promptly after use.
Package Contents:
1. Baby Nasal Aspirator 
2. Gourd-shaped and Funnel-shaped Silicone suction nozzle
3. USB Cable
4. User Manual 
5. Packing box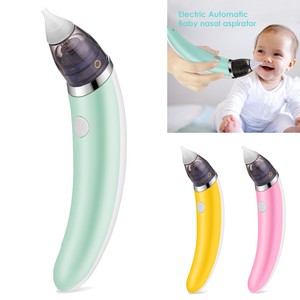 Easy Maintenance: 
1. Please clean the device with proper detergent.
2. Tear down the moveable compartment and sterilize with boiled water or steam, but not in the microwave. 
3. Please clean the device with dry and soft clothes after sterilization. 4. Do not expose to direct sunshine and damp area.
4. Do not use erosive chemicals to clean the device.
SPECIFICATIONS
Item Type: Nasal Aspirator
Material: ABS, Sillicon
Package Size: 23 x 16 x 5.5cm / 9.1 x 6.3 x 2.2in
Package Weight: 321g
Plug: USB
Suction: 60KPa
Energy Intensity: 5 Gears